"If those words make you want to add 'still', 'seemingly' or 'in spite of everything', your relationship needs a lot of care and attention. A family counsellor explains how to restore your feelings to their former vividness.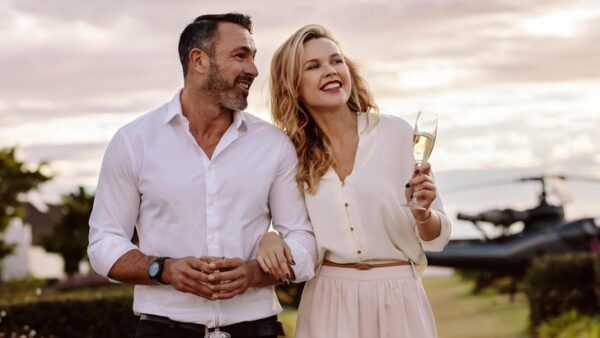 Relationships – like everything else in our lives – don't work as well on autopilot as we hope. At first glance, a couple may look quite happy, but look closely and we see two not-so-happy people who don't know how to step up to the plate. Let's face it – our romantic relationships sometimes reach an impasse.
So it's time to rekindle the flame of passion that you and your partner deserve. How? American sexologist, psychotherapist and family counsellor Regina Bright suggests 10 simple steps.
1. DATE HAPPY COUPLES
Find other happy couples with whom you can spend time – have a barbecue or picnic, go camping or go to the beach. Connecting with other couples will bring you new experiences and adventures.
2. MAKE YOUR PARTNER FEEL SPECIAL
Let him or her know that your relationship is at the top of your priority list. Think of different ways to send a message every day: "You are the most important person to me.
3. LISTEN WITH INTENT TO UNDERSTAND
Learn to communicate effectively. And that means becoming a good listener. Most people listen with the intention to respond. You, on the other hand, listen with the intention to understand.
4. PLAY FAIR
Things don't always go well. Sometimes the harmony in a couple breaks down. And at such times, it's especially important to watch your intonation, not to call your partner names, not to humiliate, not to accuse. Before you say something, ask yourself: "Will this improve our relationship or make it worse?" And if you happen to slip up, don't forget to apologise.
5. LET YOUR PARTNER BE HIMSELF OR HERSELF
Learn to accept your partner in both what you like and what you don't like. Respect your differences. Allow your partner to be themselves. If we try to force our partner to be what we would like them to be, it means we only love our own reflection.
6. MAKE TIME FOR YOURSELF
Every one of us needs some alone time from time to time. Set aside a day just for yourself and enjoy your own company. Go for a walk, spend the day at the spa, shoot hoops, play tennis – relax in the way you like.
7. SURPRISE YOUR PARTNER
Write a postcard saying how much you enjoy spending time with them, give them a balloon in the middle of a hard day at work, a bouquet of wildflowers or a box of gourmet chocolates to eat while watching a romantic movie. And for someone, a good gift would be to take apart the garage or tidy up the kitchen.
8. CREATE INTIMACY
Intimacy means not just physical affection but emotional affection as well. Take time to tell your partner about your mental and physical needs. Discuss what you can do together to meet them. Also divide up the housework. Shared household chores equally equates to greater intimacy.
9. TRY SOMETHING NEW
Make alterations to the room together or take a sushi cooking class together. Break the routine, come up with something new that will make your life more exciting.
10. SPEND A DAY TOGETHER.
Carve out a day in your schedule that just the two of you will spend together – and that no one will get in your way.