We often talk about red lines and flags – signs that you and your (potential) partner are incompatible, that this person is better to bypass. There are things that are not so critical and don't seem to spoil the relationship, but are terribly annoying – they are called "pink" flags.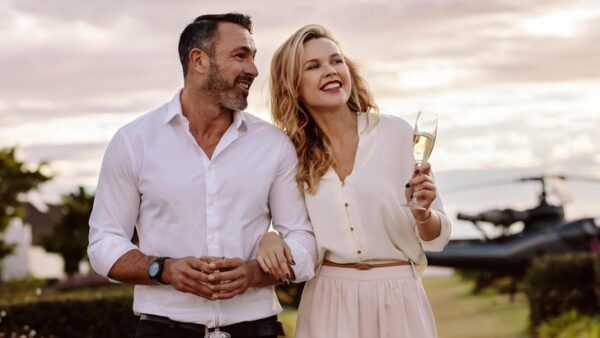 "You might not pay attention to these 'little things' the first time, the second time," says Tracy Ross, a clinical social worker specialising in couples and family therapy. – But if these moments keep recurring, you may start to ask yourself: Is this really a warning sign or am I imagining things? Maybe I'm just overreacting? Maybe the situation can be remedied?"
Psychologists say: you should trust your intuition. They call such calls "pink" flags. These are certain points of concern that can be used as an opportunity to grow together. They are different for every couple, but there are those that occur most often.
1. YOU'VE NEVER HAD A FIGHT
The perfect relationship? Complete agreement on everything? Maybe. But most likely, you are not sincere enough in your relationship and try to avoid difficult or uncomfortable conversations, each time wondering if it's even worth talking about.
In fact, quarrels are not always a bad thing. And truly strong couples need to learn to deal with conflict in order to grow their relationship. Instead of letting problems build up like a snowball, you need to solve them and, by the way, finally learn how your partner behaves in difficult situations. After all, there is a risk that the "pink" flag will turn into a "red" flag.
2. YOU SHOW YOUR FEELINGS DIFFERENTLY
"Let's say you're a maximally tactile person: you need to kiss, hug, hold hands," says psychologist and co-director of the Institute of Modern Sex Therapy, Rachel Needle. – If your partner avoids touch in such quantities, you might not notice it at first, but over time you'll miss it acutely. So your needs will go unmet."
This doesn't just apply to touch. For example, you expect your loved one to be in touch on messengers 24/7 and get offended if you don't hear from them at least once a day. Others find this behaviour intrusive and are uncomfortable with constant texting. Either way, this is a topic that needs to be discussed.
3. YOU FEEL THAT YOUR PARTNER IS HIDING SOMETHING
It is normal that you want to know as much as possible about your loved one. And it's understandable that you get information gradually. But if it seems to you that the partner deliberately hides something from you, it can be a red flag.
At the same time, psychologists warn: if you had a past bad experience, perhaps you just "blow on the water" and intuition plays a cruel joke on you. The easiest and most natural thing to do is to ask a direct question. But not to accuse, but to admit that you are worried. You may be able to make sense of the situation and calm down.
4. YOU'RE SEXUALLY INCOMPATIBLE
No matter how much we talk about prioritising the spiritual, harmony in bed matters too. So what do you do if you're comfortable with this person to socialise with, but not to sleep with. 'Not all sex is spectacular at the beginning of a relationship,' admits Rachel Needle. – But the more people get to know each other, the more comfortable they are in bed."
According to the expert, if things don't improve after a while, it can turn into a red flag. That's why it's important to look for common ground right away and don't be shy about telling what gives you pleasure.
5. YOU CONSIDER YOUR PARTNER TO BE AN INCONSISTENT PERSON
Today he is open, happy and patient, and the next day he is closed, inattentive to you and went into a deaf defence. It sounds unpleasant and it seems that this person is no longer worth trusting because he or she is unreliable.
This is actually a very fine line. On the one hand, everyone has the right to be tired, in a bad mood, stressed. On the other hand, lack of consistency in actions, words, deeds can be a sign of problems beginning. Perhaps a person does not respect your boundaries, recognising only their own. In this case, it is a double standard.
"Try talking to your partner," the psychologist suggests. – Tell him/her that you would be happy if he/she shared his/her thoughts or problems with you. If it is only that you do not want to "load", the situation can be solved. Most importantly, don't jump to conclusions."
6. PARTNER IS ALWAYS HANGING OUT IN THE GADGETS
If during a conversation your partner keeps getting distracted to check their phone or watch the next Youtube video, it's unpleasant. The only thing worse is if he or she is squinting at the TV during sex or stopping to answer a text message. This can lead to serious relationship problems.
"It's OK if it doesn't bother either the man or the woman," says Rachel Needle. – Maybe they're both doing it, they're both keeping their eyes on their smartphones, and they're both fine with it. But if one person is bothered by the situation, it needs to be discussed."
7. YOUR PARTNER TRIES NOT TO BE SPECIFIC ABOUT YOUR RELATIONSHIP
Imagine you've been dating for a few months, but to everyone he or she knows, you're "just friends." You have never been invited to family reunions or introduced to relatives. Psychologists warn: if a person avoids acknowledging a relationship – it can be a "pink" flag. It turns out that he or na just have a good time, while you are looking for something more serious.
8. YOU ARE NOT UNDERSTOOD OR SUPPORTED
Psychologists call the state of being respected, heard, praised, approved of, emotional security. "It's very important in relationships," believes psychologist Sarah Weisberg, a psychologist and founder of Potomac Therapy Group. – We feel emotionally safe when our partner makes an effort to understand, support and reckon with our opinions."
A simple example: asking how things are going at work, asking how the project presentation went, asking where the person would like to spend a holiday, keeping your word if you promise something, not snapping back even if you are tired, and so on. If all this is absent, if the partner is not looking for compromise and puts his priorities first, emotional security is out of the question. This is no longer a pink flag, but a bright red one.