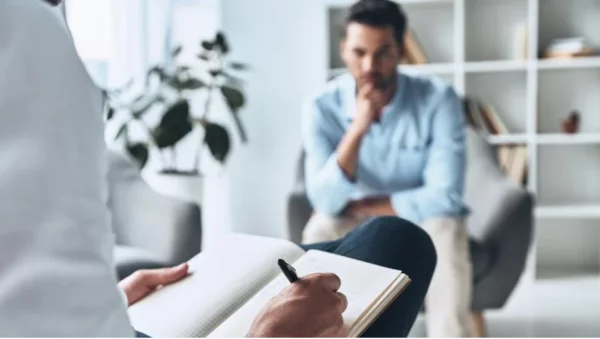 More and more people are considering visiting a psychologist, but fear of confiding in a stranger about their problems is still a major obstacle. The psychologist's office is often an "unknown territory," and many unknowns related to the first visit can lead to anxiety or uncertainty. Find out what to expect during your first visit to a psychologist, how to prepare for it, and learn about the differences between a psychologist and a psychiatrist, as well as a psychologist and a psychotherapist.
Sometimes it can be difficult to determine whether a psychologist's office is a good place to address a particular problem. However, it is worth deciding to use the services of a professional if the methods we have used to cope with difficulties so far have not yielded the expected results.
When is it good to visit a psychologist?
Starting to work with a psychologist can be a good solution if past experiences or feelings make us feel like we can't handle them on our own. It happens that our closest people are not able to provide us with sufficient support, and our previous coping methods do not bring relief or are just another source of complications.
Psychologist, psychiatrist, and psychotherapist
A psychologist is not the only specialist providing psychological help, so it is no wonder that it is sometimes difficult to determine whom to turn to with a particular problem.
Psychologist and psychiatrist
The difference between a psychologist and a psychiatrist is that a psychologist is a graduate of psychology, while a psychiatrist has medical education. However, experts often collaborate with each other, for example, a person visits a psychologist for therapy but goes to a psychiatrist for one-time visits to prescribe appropriate medication.
People usually visit a psychologist to deal with depression, relationship problems, or problems with children, parents, or in-laws. A psychiatrist, on the other hand, usually does not conduct therapy – diagnoses, develops a treatment method, prescribes medication, may have a private practice, or work in a psychiatric ward.
Psychologist and Psychotherapist
A psychotherapist is a graduate of psychology or another field of study, as well as a four-year training in psychotherapy. Psychotherapy is taught in various branches, such as cognitive-behavioral therapy, psychodynamic therapy, or systemic therapy.
Therefore, a psychotherapist has more practical preparation than a recent psychology graduate. However, it is important to remember that selecting a psychotherapist should be approached with utmost care. Only some psychotherapy schools are authorized to issue certificates recognized by the National Health Fund.
Psychologist: How to ease worries about the first visit?
Worries about the first visit to a psychologist are completely normal. Many people experience fear of judgment or criticism of decisions, behaviors, or thoughts that will be addressed during the meeting. The decision to visit a psychologist often entails fear of negative reactions from others. Although an increasing proportion of society uses personal development or psychological support services, many people still think stereotypically about psychologists.
Psychologist: What does the first visit look like?
The first meeting with a specialist is typically an introduction to further visits. During the visit, the psychologist can get to know the client and gather information necessary to propose a work plan. It is also a moment to clarify the rules of cooperation between the client and the specialist. Usually, this is when the frequency and duration of the meetings are agreed upon. The frequency depends on what the client needs and on the type of service chosen (advice, support in crisis situations, therapy).
It is also important to remember that such a first meeting allows you to get to know the specialist and check if they are a person with whom you feel comfortable and safe. During this meeting, the psychologist will likely only listen and occasionally ask questions. Some clients who are not aware of the information role that the first meeting should play may feel discouraged.