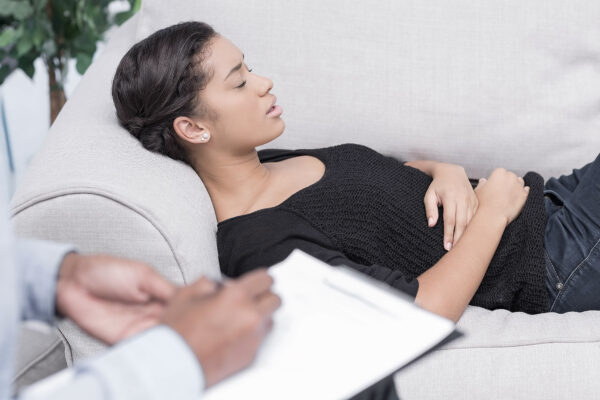 Psychoanalytic psychotherapy can be associated with scenes from movies where the patient lies on a couch while the therapist asks questions. However, this form of meeting is characteristic of psychoanalysis, whereas during psychoanalytic psychotherapy, the patient sits facing the therapist. What is psychoanalytic psychotherapy, who is it suitable for, and how does it work?
Psychoanalytic Psychotherapy – Main Assumptions Currently, there are psychoanalytic therapies available that use specific and consistent techniques. They involve discussing problematic thoughts and feelings, experiences, interpersonal relationships, as well as developing the relationship between the therapist and the patient.
The psychotherapist, using psychoanalytic methods, gets to know the patient by projecting their thoughts and feelings onto the person leading the conversation. The patient offers their subjective view of themselves and the surrounding world, and the therapist processes the information gained and presents it in an adapted form as a neutral person. The perspective offered by the therapist allows for defining thought patterns, problems that are difficult to accept or are suppressed by the therapy participants.
Psychoanalytic Psychotherapy – Indications
The proposal to start psychotherapeutic treatment can come from a psychologist, it can be an idea of the future patient or their relatives. Regardless of who sees the indications for psychotherapy, it is usually based on specific symptoms, behavior, or emotional and mental state.
If you are interested in whether psychoanalytic psychotherapy will work in your case, it is worth familiarizing yourself with its general assumptions. It is said that psychoanalytic psychotherapy works well in patients with:
Neurosis and anxiety disorders
Personality disorders
Psychotic disorders
Obsessive behavior and thoughts
Psychosomatic symptoms
Depression
Symptoms resulting from unconscious conflicts or adaptive difficulties.
The psychoanalytic approach is suitable for people who are ready for gradual and in-depth analysis of the causes of specific symptoms or negative feelings. Better understanding of oneself and internal conflicts should lead to the specific defensive reactions losing their meaning thanks to insight into one's own mental processes. In this way, therapy enables effective elimination of negative symptoms.
Psychoanalytic psychotherapy is a long-term method
If a patient wants to alleviate symptoms and overcome a crisis more quickly, they should consider short-term psychotherapies that are effective in treating depression, such as cognitive-behavioral psychotherapy.
Duration of Psychoanalytic Psychotherapy When deciding to participate in psychoanalytic psychotherapy, it is important to realize that it is quite intensive. Sessions can take place two to three times a week for longer periods. The timing of the therapy is not set, and given its specific nature, the entire process can last several years.
During sessions, patients can confide in their problems, discuss current everyday or interpersonal difficulties, and express negative emotions. The psychotherapist may ask about the patient's past, childhood, and current experiences.
During psychoanalytic psychotherapy, it is possible to explain the nature of problems. The patient becomes aware of the mechanisms that govern their behavior and understands the motives that underlie their perception of reality. By transferring their experiences to the therapist and reconstructing the past, they can work through problematic issues and resolve internal conflicts.
Effectiveness of Psychoanalytic Psychotherapy
The primary goal of psychoanalytic psychotherapy is not to eliminate the symptoms observed in the patient, although this is indirectly what we want to achieve. The use of psychoanalytic techniques often allows patients to confront difficult problems until internal barriers are broken down, opening the way to mental changes. This long-term process provides an opportunity for emotional reevaluation and transformation of thinking so that the effect can be long-lasting.